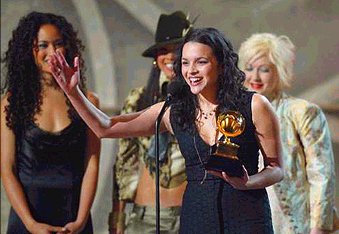 Norah Jones at the 2003 Grammy Awards
Session Details:
Read The Session Details - From Pro Audio Review "Single Slice" by Chuck Taylor. Includes microphone and other equipment choices plus an interview with Jay Newland.
Mix Magazine Grammy Article
The article concentrates on the Technical awards, including "Best Engineered Album-Non-Classical". It includes comments and details about the recording of the album from Arif Mardin and Jay Newland.
Norah Jones' "Come Away With Me" (Recorded at Sorcerer Sound) won all 8 Grammy Awards that it was nominated for. These include:
Single of the Year
Best Album
Song of the Year
Best New Artist
Female Pop Vocalist
Best Pop Vocal Album
Plus:
Best Engineered Album (Non-Classical) To: Jay Newland, Arif Mardin and Husky Huskolds
Best Produced Album (Non-Classical) To: Arif Mardin
Much of the album, including the single, "Don't Know Why", was recorded in Sorcerer Sound Studio A. Dick Kondas, one of our house engineers, and Mark Birkey assisted on the sessions. We'd like to congratulate Norah Jones, Jay Newland, Arif Mardin, Jesse Harris and everyone else associated with the project. We look forward to working with them again.